Cockroaches are one of the most common pests in Dubai. They can cause a wide range of health and safety issues, including allergies, asthma, and food poisoning. To ensure a safe and healthy environment for everyone, it is important to take action against cockroach infestations. We are the best cockroach control in Dubai. And also we provides pest control services in Sharjah and almost everywhere in UAE. We can help you to get rid of these pests quickly and effectively. With the right knowledge and tools, we can be sure that your home or business will be free from these unwanted guests.
01
German Cockroach
The roach that common in kitchens is the German cockroach (Blatella germanica). It is a half-inch long, bronze-colored bug that hides in cracks and crevices and stays hidden from the light. Two black stripes can be seen on the back, just behind the head, on adults and older nymphs. Around 75% of a German cockroach's life is spent in hiding. One reason the German cockroach has been so effective at coexisting with people is that it has a body that is smaller than those of other species, which makes it easier for it to conceal in narrow areas. Because it can be unsafe to appear from hiding in order to eat or mate, this is typically done at night. The roaches only move out of their hiding places as far as is necessary to get food and mates. The typical distance between their hiding spots and their food source is 10 feet. .
Rapid reproduction is another trait that helps the German cockroach grow. The female German roach goes into hide and holds the egg capsule on the end of her abdomen until the eggs are around 24 hours before hatching, in contrast to other roaches that drop their egg capsules days before the eggs hatch. German cockroach populations can swiftly increase, and since there are about 30 to 48 eggs per capsule with this mode of egg protection, roughly 80 percent of the roaches in an expanding population are nymphs. .
The German cockroach favors residing near to its own kind. Numerous cockroaches can be occupied under a same hiding space. Huge groups can be seen huddled together in wall and cabinet spaces, underneath stoves, refrigerators, and dishwashers. When roaches urinate in these locations, they leave behind dark speckling that carries pheromones, which are fragrance clues that identify a surface as a roach "fecal focal point" and cause roaches to gather there.
02
Oriental Cockroach
The cockroach known as the "waterbug" of basements, crawl spaces, and garages is the Oriental cockroach (Blatta orientalis). It can survive mild winters because it lives in cooler environments with lots of moisture, such outdoors near foundations in mulch and leaves. The Oriental cockroach grows more slowly as a result. They take an average of 18 months to develop from egg to adult, compared to the German cockroach's average of about 2 months. In addition, the German egg case holds 30 to 48 eggs, whereas the Oriental's egg case holds 16 eggs. Eggs inside the Oriental roach's egg case take, on average, two months to hatch after they are separated from the mother.
The appearance of oriental cockroaches also varies. Nymphs are brown when they first hatch and turn blackish as they mature. Adults can reach a length of up to 1 14 inches, have flat, wide bodies, and without any distinctive markings. While neither sex is able to fly, males have wings that almost cover half of their abdomens, while females only have stubs.
03
American Cockroach
The American cockroach (Periplaneta americana) is a big species that can grow up to 2 inches long. It is reddish brown, although the borders of the thorax are lighter. Adults have wings that reach their body's end. In excess of 85 °F, they may fly. Compared to German cockroaches, American cockroaches are far less common in homes.
When compared to German cockroaches, American cockroaches grow much more slowly. The egg case of the American holds 14 to 16 eggs. The eggs are laid by females and are frequently placed close to food sources, where they normally hatch in 45 days. From egg to adult, the average development duration is 15 months. Nonetheless, in a suitable environment, enormous populations can grow.
04
Brownbanded Cockroach
Although this cockroach is occasionally found indoors, it prefers warmer temperatures (about 80 F) than the far more typical German cockroach. Electronics, motor housings, light fixtures, and ceilings are its favorite heated surfaces. When German cockroaches are spotted in non-food locations (such as bedrooms), it may be a sign of a high infestation, a lack of hiding places, or the use of a pesticide that repels them. however, brownbanded roaches are also known to reside in non-food areas.
German cockroaches are slightly larger than brownbanded cockroaches (Supella longipalpa), which are also more colorful. Males h Guys have a broad dark brown stripe running along their entire body. With wings covering their abdomens, they can fly. Females have lighter bands on their abdomen and a deeper overall color. They are unable to fly and have smaller wings. Nymphs have a dark back with cream-colored stripes and a large portion of their belly is golden orange. Adults and nymphs alike may jump if startled.
In addition to being unwanted pests, cockroaches pose a risk to human health by contaminating the interior environment and eating our food. Cockroaches are well known for contaminating food, kitchen surfaces, dishes, and eating utensils with disease pathogens, such as the numerous bacteria that cause "food poisoning" in humans. It is still a legitimate health issue how many cases of human gastrointestinal illnesses are due to cockroaches' mechanical transmission of diseases. The potential of the roach to cause asthma, however, might have the most effect on human health. The "skin" that cockroach nymphs periodically shed allows them to grow (the exoskeleton). When breathed, cockroach excrement and exoskeleton fragments behave as antigens (foreign proteins), which can trigger allergic and asthmatic reactions.
Within buildings, cockroaches of different types are common. The German cockroach, for example, cannot survive temperate winters outdoors since most household cockroaches are of tropical origin. Most of them are nocturnal. All enjoy warm, moist environments where they can eat a range of things, including pet food and human food, as well as decomposing and fermenting substances.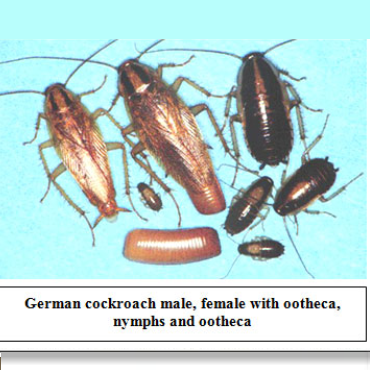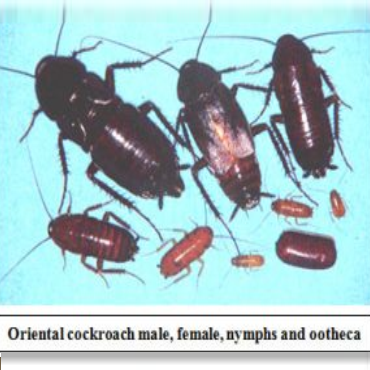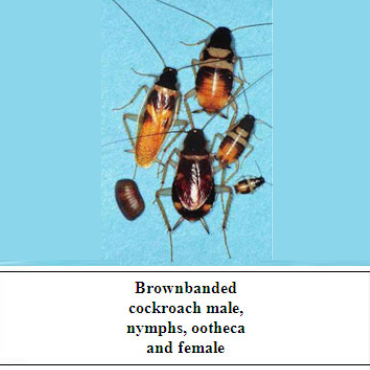 Roaches need food, water, and a place to live. Cockroaches can only grow and reproduce if all three are present in sufficient numbers. Coupled females create oothecae, which are pillow-shaped egg capsules that may hold up to 48 eggs apiece. Their eggs hatch into tiny, wingless nymphs, which develop into adult roaches over time. /p>
Inspection
Rarely is a cockroach infestation completely eradicated with a single method of control, such as the application of pesticides. Similar to how few infestations may be completely removed by the application of a single pesticide without additional inspections and treatments.
The principles of Integrated Pest Management (IPM) should be used when long-term management or elimination is the purpose. All efficient non-chemical control methods, including sanitation and exclusion, should be used after inspection.Use of a bright flashlight and frequently additional instruments, such as a mechanic's mirror for viewing difficult-to-access voids, probing tools, and a flushing agent, are necessary for a thorough inspection (typically an aerosol containing pyrethrins). Inspect the area for signs of roach activity, such as the dark speckling that German cockroaches leave behind.
The consumption of food by cockroaches, the presence of cockroach egg cases, and shed cockroach "skins" are other indicators. These indications of an infestation can help find the roaches' location. By helping in the identification of roach activity regions, pest monitors, often known as "sticky traps," can provide useful information. Even when it is thought that cockroaches have been eradicated, monitor use should continue. Regularly monitoring traps can help confirm removal and provide early notice of the existence of new roaches, allowing for control of them before the population increases.
Around their source of food, cockroaches frequently choose to hide. Search for places that provide warmth, food, moisture, and cover. Keep in mind that roaches favor natural surfaces like wood.
The normal distance that younger nymphs travel from their hiding locations is no more than 2 feet. Adults typically forage less than 10 feet from their harborage, though a female carrying an ootheca may wait until the egg case is removed before moving or feeding. Any strategy must, of course, take into account how the different stages of roaches in a population evolve, as well The normal distance that younger nymphs travel from their hiding locations is no more than 2 feet. Adults typically forage less than 10 feet from their harborage, though a female carrying an ootheca may wait until the egg case is removed before moving or feeding. Any strategy must, of course, take into account how the different stages of roaches in a population evolve, as well as the importance of rigorous inspections, proper cleanliness, exclusion, and the appropriate choice and application of pesticides.
Exclusion
Cockroach movement and hiding areas are reduced through exclusion. It might not be possible to block off every route that cockroaches take or stop them from using every conceivable hiding location. Nonetheless, this does not diminish the importance of exclusion.
Preventing cockroach movement between rooms and units is crucial in homes with shared walls, such as apartment buildings. German cockroaches frequently pass through shared walls, such as the spaces around pipes under sinks. Filling these gaps with substances like silicone sealant or urethane foam is recommended. In some cases, the building's surroundings or nearby structures may be home to American or Oriental cockroaches. In such circumstances, the building's outside should be examined to identify and seal any areas where roaches could enter the interior.
In a similar manner, roaches can be kept out of hiding locations by plugging any gaps, crevices, or holes that they use to enter the quiet areas where they spend most of their time.
Sanitation
The ultimate purpose of sanitation is to eliminate all food and water sources from the cockroach's surroundings. Similar to exclusion, this objective is typically not entirely met, but every attempt should be taken to exclude as many food and water sources as is practical. While proper hygiene and exclusion rarely guarantee cockroach extermination on their own, these two practices improve the efficacy of pesticide treatment. Pesticide efficacy may be hampered if dirt, grease, and moisture are not eliminated. Moreover, pesticides like baits work better when there are no available substitutes for food. In addition to eating the baits, roaches may forage further and come into contact with surfaces that have been treated with pesticides. In contrast, inadequate sanitation often leads to a larger reliance on pesticides, which means more pesticide use and a higher risk of misuse and human exposure.
Together with killing and physically removing cockroaches from a structure, steaming and vacuuming can be effective cleanliness techniques. Available and efficient insect-controlling steam heaters and vacuums are ideal for badly infected areas.
Pesticide Application
It's just as crucial to follow label instructions when applying an insecticide and apply it near enough to where cockroaches are hiding. If roaches are not exposed to insecticides or do not find bait places, even the greatest insecticides will not work.To position bait close enough for roaches to detect and eat it, it is vital to do thorough inspections to determine where roaches are hiding.
New cockroach bait items have altered cockroach management since the 1980s. Baits have taken the role of the standard baseboard spraying and fogging of the prebait era and are now readily available in a number of brands and formulas, from gels applied by syringe-type applicators to granular items. Relying on baseboard spraying to control cockroaches ignores the most efficient method of cockroach control in light of the availability of effective baits.
As with other insecticides, baits are efficient against cockroaches, but one product should not be used for extended periods of time. Cockroaches have showed some resistance to and avoidance of bait products (having the ability to survive after feeding on bait). By utilizing one pesticide product for a few months before moving to a different product, cockroach resistance issues can be postponed or avoided.
Be aware that many dusts, including those containing boric acid, are offered in squeeze bottles that, if handled improperly, can readily dispense an excessive amount of substance, resulting in ugly and ineffectual piles of powder. Cracks and voids need to have a fine, barely noticeable layer of dust placed to them. The opposite is true for cockroach gel and container baits. Anywhere roaches hide, including under sinks, at shelf corners and edges, several placements should be placed. Infested kitchens should utilize a dozen or more bait stations. The use of several gel or other roach bait places is also advised. Use gel baits sparingly; don't use thick, continuous lines like you would caulk. Storage of baits close to other pesticides or spraying on or near stations and bait placements will contaminate them. Be patient after applying the bait. For roach populations to be significantly reduced, roach deaths, particularly from exposure, can take several days.
By combining the use of pesticides with nonchemical techniques, the efficacy of each technique is increased and cockroach management is maximized.